October 2, 2023
The Evolution of Generative Design: Tools on the Rise
The current decade of the 21st century has witnessed a rather strange start; a global-scale pandemic took over us, as well as our daily lives, work, play, and everything in-between. While a lot of wholly digitized industries continued to operate and survived effortlessly, the AEC sector took a deeper blow. The design industry in particular had to struggle before being able to seamlessly collaborate virtually and get things done. Most of us Architects and Designers, while trying to look for collaborative digital tools for design, happened to come across the whole notion of collaborating with a machine, rather than another human. The concept of human-machine intersections in creating design processes and products has existed for quite some time now, and it has gained tremendous momentum over the last couple of years.
A handful of software products and solutions exist to facilitate this co-creation, most of which use what is collectively termed Generative Design. It encompasses rationalized, logic-driven design systems, with a number of variables/parameters, the ranges of which govern the design outcome.
It further makes use of generative algorithms that help easily evaluate design options generated, optimize based on users' priorities, and provide an informed direction forward. Generative Design has incredible potential in making the workflows of designers and architects quicker, easier, and extremely efficient, by automating a lot of repetitive, time-consuming tasks. The market for generative design products is absolutely on the boom this decade, as more and more professionals from the AEC industry are adapting to the innovations in the domain.
TestFit
In the words of its developers, TestFit is the "ultimate building configurator", rather than strictly a generative design tool. Instead of generating multiple options, it is generating one option that best meets your input parameters, that can be edited using co-creation tools aka manual mode. It is a software product designed for Architects that operates more on a site level, while it also has a fair deal of features that help focus on micro-level scales as well. The product was conceived from the undeniable fact that Architects and Designers spend a large proportion of their time making drawings of buildings and spaces that don't always get executed.
The founders of TestFit harnessed the power of its algorithms to generate one design for the given site and the given program mix. This saves hours and hours of manually drawing building plans and sections, while the design & financial possibilities offered by the site are completely explored.
TestFit extends its usability and services to not just Architects, but also developers, builders, brokers, etc. thus making it easy for them to win projects quickly, and deliver them with speed and efficiency. The product also makes it seamless to incorporate any feedback from the client's side into the design, vastly lessening the time from project feasibility to the commencement of project execution.
A series of project undertakings by RBA Architects from Chesapeake, Virginia, and their application of TestFit to win projects extremely quicker stand testimony to the product's competence. The ability to test out concepts directly in the TestFit interface, develop them for presentation to clients/other stakeholders, rapid incorporation of feedback, and export of the same to BIM software like Revit, all within an exceptionally short time period, make TestFit stand out in the Generative Design product line. Details about the application of TestFit in these projects could be found here.
Digital Blue Foam
DBF, short for Digital Blue Foam, is a software tool meant for Architects, Planners, Developers, etc. used for schematic design and early-stage planning. What distinguishes DBF from other products in this line is its baseline of sustainability in all its features. The tool makes use of custom-trained Machine Learning models and Generative Design algorithms, aiming to accelerate growth towards carbon-negative building design, customization, and operation.
The team behind the tool actively engages in research and development to include new features that help reduce the carbon footprint of the development, through easy-to-use and easy-to-understand sustainability metrics.
The creators of Digital Blue Foam envision their product to be an ecosystem of web applications that addresses multiple areas of the design process and interconnects the workflow of designers, developers, and contractors to enhance product delivery, communication, and quality of design with the key mission of bringing sustainability to the forefront.
Besides, the product enables online, real-time collaboration of architects, developers, and other stakeholders (of up to 100 people) on a single project. A striking visual characteristic of the tool is its handy, circular user interface. The interface brings all the contextual, geo-spatial data about the project's location to the user, with parameters for sustainability analysis including sun-hours, wind directions, daylight autonomy, and a lot more. It removes the need to learn to code/visual script to use Generative Design, while extending support for integration with BIM and other 3D design software like ArchiCAD, Revit, Rhino3D, etc. DBF too works on multiple scales and sizes of projects, from a building level, all the way to neighborhoods.
For many years advanced computational design tools have been restricted to only a few experts in the industry, and the people at DBF believe that digital technologies such as generative design, machine learning, and computer simulations should be available to everyone, and to this end, they pay close attention to building the most user-friendly interface to enable a larger audience to engage with these technologies.
"Our clients value the ease, speed and friendliness of our product. They have used our tools for project evaluation and feasibility studies in both large and small scale projects to boost the quality of design and explore a larger number of design possibilities for their projects." — Cesar Cheng, Head of Product, DBF
Delve
Envisioned and created by Sidewalk Labs, Delve is a software product aimed at real-estate teams, developers, architects, etc. to aid in designing better, faster, and with less risk. Used primarily in the feasibility stage — the product can be used at any phase of the development process, however. Delve enables smarter decision making, seamless collaboration, and insights driven by data, all of which call for improved efficiency in neighborhood design.
Delve provides the user with design variants, considering parameters/factors grouped under four broad heads: Yield Program, Design Priorities, Quality of Life, and Financial Outcome. This is key to its ability to simplify a vastly complex development process. Like the two other products mentioned previously, Delve's Generative Design engine churns out a diverse set of design solutions for the required program and priorities, taking into account the attributes and constraints of the site. Its optimization algorithms help analyze and evaluate the options generated to find the design output that best matches the development team's needs. Metrics like daylight, sun hours, and walkability, all play a vital role in informing design during the evaluation stage.
Delve has been used by property development group Quintain, to extensively explore the design space and make informed design decisions, for one of their recent projects Wembley Park in London. The prime objective was to raise project density while minimizing daylighting and cost impacts, solving for complex project requirements in the 12-acre mixed-use development.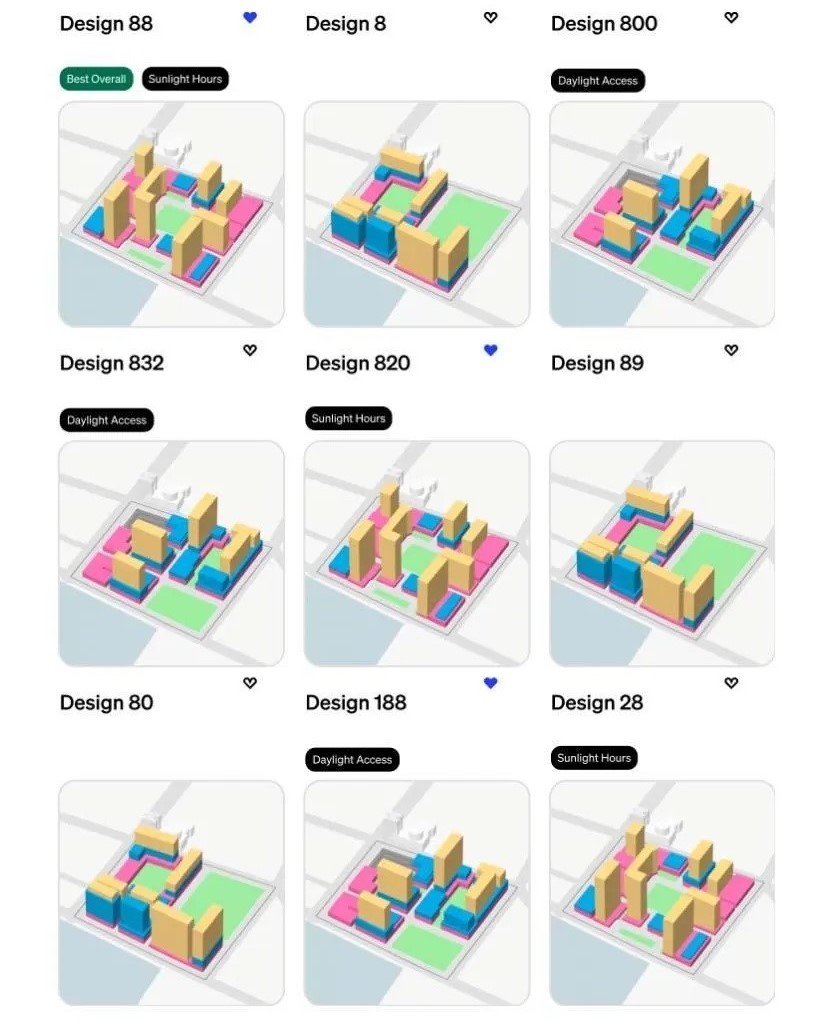 Using Delve, Quintain generated, evaluated, and optimized 40,000 variants that increased the number of housing units (i.e. "unit yield") while preserving the quality of the environment over an existing benchmark design. By the end of the 8-week engagement, Delve produced 24 high-performing variants that exceeded all goals across unit yield, usable built area, daylight access, sun hours on the ground, and daylight impacts on neighbors. Learn more about Delve here.