October 2, 2023
Construction Technology Success Stories | Kajima, Skanska USA & Ryan Companies
Hosted by aec+tech, innovation leaders from three prominent construction companies shared their stories and insights about using the latest tools and technologies in their workflow (see the event recording here). Lisa Neal, emerging tech manager at Skanska USA, Yuji Doi, Innovation Manager at Kajima, and Lucas Manos, senior innovation manager at Ryan Companies US, Inc. talk in-depth about their experience in testing and adopting new solutions.
Lisa Neal with Skanska USA talks about three use cases, including the implementation of a mobile asset and facility management solution, a multi-project multi-region pilot for computer vision production tracking tool, and lastly citizen development of a no-code, low-code application to support internal business processes. Lisa focuses on the importance of identifying the problems that technology is being used to solve. She then shares the first case study, which is a mobile asset and facility management solution.
Snapfix: The Simple Solution for Higher Education Facility Management
Lisa talks about one of Skanska USA higher education clients who has implemented Snapfix, an intuitive computerized maintenance management system (CMMS) app developed by an innovative Irish start-up. With three campuses and 29 buildings, managing assets and buildings is crucial for the client. Snapfix has provided valuable benefits, including access to data that was previously unavailable, improving insight into work orders, open tasks, and repair timelines. The app is designed for simplicity, and solves the challenge of communicating status by providing an easy-to-use platform for facility teams. It features a universal traffic light system for task progress, and simple features for prioritization, adding photos and videos, location tagging, and chat. Snapfix's familiarity, similar to text messaging (e.g. WhatsApp), eases the transition from paper-based processes to a digital solution. Snapfix is intuitive and is as simple as taking a photo. Training is minimal to zero, and everyone on a team can use it.
Snapfix app, Lisa explains, also grants immediate access to digital construction documentation, enhancing efficiency in the field. Real-time notifications within the app streamline communication, replacing traditional note-taking and email correspondence. In-app reporting and dashboards cater to users who wish to analyze data for capital planning and administrative purposes.
A Multi-Region Case Study: Leveraging AI for Progress Tracking and Quality Control
Lisa explains the second case study, a multi-project, multi-region pilot to test an automated progress tracking and QAQC tool. Two pilots took place in New York in 2019 and 2020, while two other pilots occurred in Portland in 2020 and 2021. The goal was to leverage existing data, such as 360 images and laser scans, to find a tool that could streamline processes and reduce redundant work. Additionally, the tool aimed to compare work in place with scheduled work and generate weekly progress reports. The results differed between regions, with the New York team finding the data inconsistent, time-intensive, and expensive. Consequently, they opted to outsource the work to an engineer. On the other hand, the Portland team had a positive experience, as the tool proved highly accurate in depicting on-site progress. Despite the contrasting results, the value of this case study lies in connecting teams across regions, sharing knowledge, and exploring tools to address common challenges.
No Code Low Code App Development using Microsoft Power Platform
No-code/low-code refers to a visual approach to software development that allows non-programmers to create custom applications and automate workflows. The value of this approach lies in empowering individuals who have a deep understanding of their own problems to build their own solutions efficiently. While it may not offer the same level of configurability as a pro-code solution developed from scratch, investing time in understanding data modeling, app architecture, and other fundamentals is essential.
Lisa shared two examples: one involving a custom app for supply chain management that successfully tracks and reports lead times, and another where a colleague built a mobile app to track deliveries and manage on-hand inventory, resulting in a 25% increase in efficiency. Lisa also highlights the benefits of using Power Automate for automating redundant tasks, such as invoice processing, leading to significant time and cost savings.
Lisa emphasized the potential for automation and data connectivity as key advantages of low-code development.
Yuji Doi is the Innovation Manager at Kajima, responsible for sourcing and managing all Silicon Valley based innovation initiatives for the company. He works closely with startup companies to assess technology and business applications that can enhance Kajima's business globally.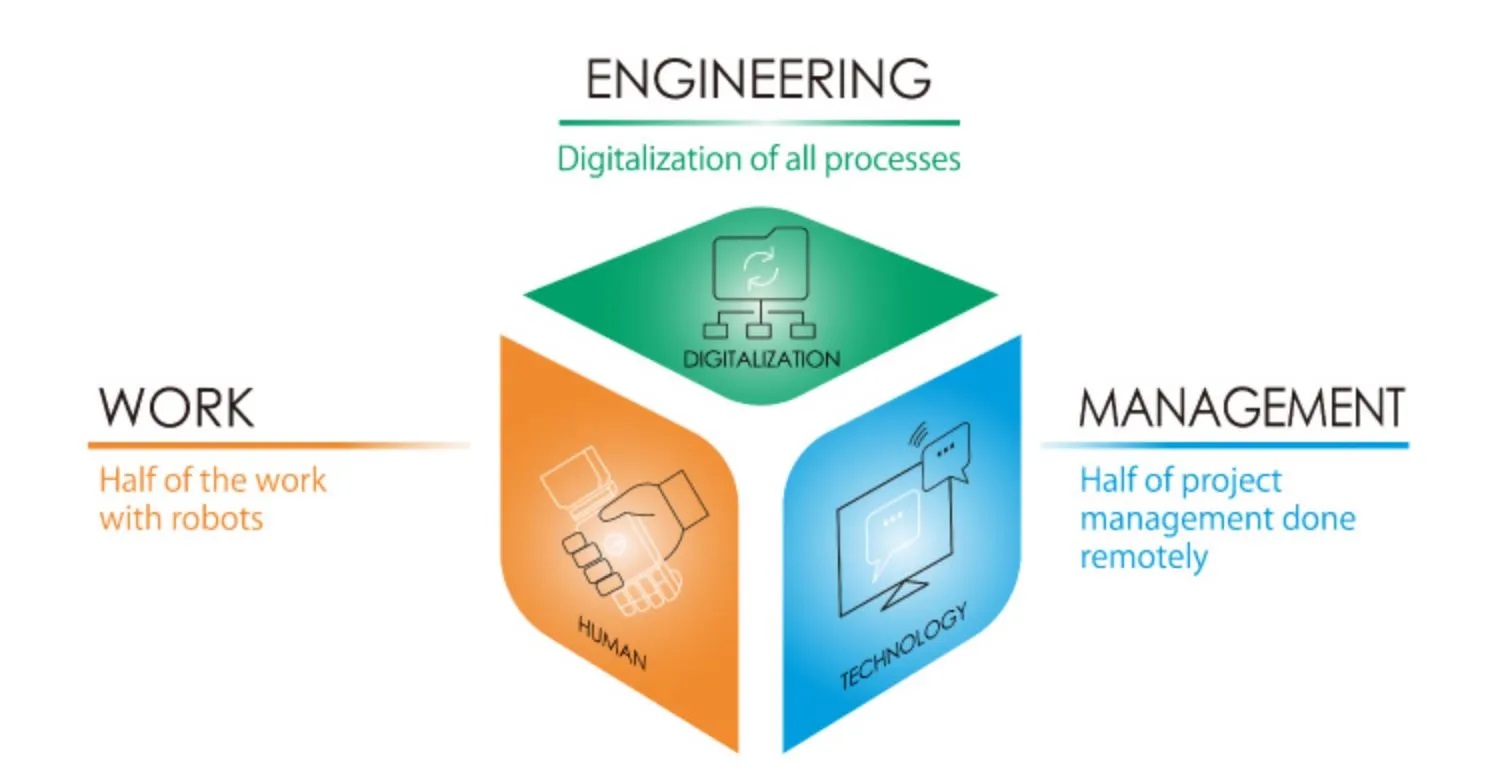 Open Innovation for Present and Future Core Business at Kajima
Kajima is a Tokyo-based general contractor with a history of 180 years in the construction industry. They have expertise in architecture, engineering, and real estate development. While most of their business is in Japan, they also have a presence in the US and other territories. The company handles various types of construction projects, including heavy civil work, commercial and residential sites, and even unique renovations like Japanese castle-style buildings. They aim to cover all phases of construction, from early stages to completion and operation, and have established a Technical Research Institute for internal R&D and innovation.
Kajima has embraced open innovation, expanding beyond R&D to explore what the future of construction is going to be, Yuji says. The company recognizes the need to adapt to industry disruptions and collaborate with external partners.
Yuji starts his talk by emphasizing that it's not just about technology but also about embracing new ways of thinking. The journey towards open innovation involves changes in mindset, culture, and management. Yuji explains how the company has implemented various innovative solutions, both on the implementation side and in collaboration with external partners. They have worked with HoloBuilder for 360 photo documentation and utilized AI and computer vision to analyze worker productivity and safety.
Drones have been employed for tunnel inspections, overcoming challenges in GPS-denied environments. The company has also ventured into robotics, developing software for quadruped robots and utilizing scanning capabilities. Through their innovation journey, they have invited more people to join their efforts and realized the importance of focusing on customer needs rather than solely engineering aspects. They have encountered challenges in managing competition and collaboration but continue to seek potential opportunities and assets for the company.
Kajima is focused on exploring future opportunities in areas such as sustainability and smart cities, Yuji explains, and the company has opened up investment opportunities in these areas as well.
Finding Joy in Innovation Beyond Products
Yuji talks about the significance of process innovation. Unlike other industries, the construction sector relies heavily on process innovation rather than solely focusing on product or business model innovation. Recognizing this, Yuji has realized the importance of understanding how our operations can adapt and fit into new processes, especially when leveraging technologies like the HoloBuilder or other innovative products.
It is crucial to understand that the product itself is not the sole solution, Yuji says. it is the process of integrating these products into our operations that truly matters.
This mindset shift has helped Kajima move away from seeking the "best" solution and instead focus on finding the right fit and adopting solutions that align with their goals. By fostering open communication and collaboration with both internal and external stakeholders, Yuji's team has been able to identify the most suitable solutions and ensure their successful integration.
Yuji has learned that innovation is an ongoing process, not a one-time event. Instead of obsessing over immediate results, he focuses on enjoying the process and intangible indicators of success. Yuji thinks continuous learning is crucial to our innovation journey, as it prevents complacency, and enables us to stay ahead by being aware of emerging trends and future opportunities.
How Ryan Companies Approach Technology
Lucas Manus is the Senior Innovation Manager of Emerging Technology at Ryan Companies. In his talk, he emphasizes that the implementation of construction technology is not just one person's job or one department's job. Rather, it is a collaboration among key stakeholders. The Insights and Innovation group, the Operational Excellence team, the VDC team, the Multimedia Creative Director, the Field Ops teams, the traditional I.T. infrastructure, and the Quality teams are all working collectively to adopt technology.
Ryan Companies, a family-owned national construction firm with over 80 years of experience, operates as a tight-knit family, employing approximately 2,000 people and covering all aspects of the industry in-house, including development, design, construction, and operations, with a particular focus on its VDC team and construction team for technological advancement. The company follows a methodical predefined process, progressing through different stages such as lead identification, active research, pre-pilot, active pilot, and eventual scaling of successful solutions across the organization.
Passive and active communication
To effectively manage communication and information, the company employs both passive and active techniques. Active communication involves documenting case studies, tech spotlights, and metrics from pilots, creating white papers case studies to serve as resources for teams in different locations. Tailored solutions are developed based on project teams' challenges, and customer feedback is utilized to strategically deploy technology for real-world problem-solving. Coordination with internal teams is facilitated through dynamic reporting, eliminating the need for meeting minutes and agendas. The company follows the Rogers 1962 technology adoption curve, targeting the 2.5% of enthusiastic early adopters first, followed by efforts to convince the early majority of the need for change, and eventually gaining support from the late majority and laggards in the organization.
Solving for the Tech Fatigue
Lucas talks about the elephant in the room here which is often referred to as the "chasm", and it is about how you would bridge the gap between early adopters, the mass market and the rest of your organization. This involves overcoming obstacles such as training, approval, and implementation strategies to avoid getting stuck at the peak of early adopters as Lucas explains. The industry faces the issue of "Tech fatigue" where numerous applications exist for similar purposes, leading to confusion and inefficiency. People on the job site are not going to create tens of usernames and passwords to access each application. The influx of investment in construction technology — according to BuiltWorlds $10 billion of VC money entering the market in 2022- brings new viable products, and an increasing number of salespeople who are constantly promoting their solutions. As an innovation manager, Lucas emphasizes that it's important to work closely with your team to identify the actual problem you are looking to solve, whether through traditional methods like sticky notes or digital collaboration tools, and then seek the suitable solutions.
Identify, analyze, prototype and pilot solutions, and gather feedback
Lucas uses a familiar example of an out of wall sleeve on a project, and explains that after identifying a potential problem, it's time to decide whether we should use technology to solve something like this or not.
Analyzing the frequency and the depth of the problem across the organization gives the innovation leader a framework on what is the inherent value for solving that particular problem through deploying a new technology. Innovation managers can analyze if this is a problem that happens once or happens hundreds of thousands of times across the company's portfolio. Then it's the time to prototype and pilot different solutions. After that the innovation leader works with stakeholders to do wireframes and figure out if the project team are going to use the technology, or if the technology solution is more complicated than the project team doing the work wrong and fixing it later.
Gathering feedback from the team -especially if they're the ones that help do the process mapping- is crucial, and through that the innovation manager will learn if the pilot has potential or not, Lucas says.
He also explains that within Ryan's ecosystem they've done a lot of work in integrating solutions so that there aren't logins and passwords and accounts for everything, and their tools seamlessly float together, and that's how they guarantee construction technology success stories.
The future of construction tech for Ryan Company
Lucas thinks generative AI and chatbots would have a profound impact on our job sites when generative AI can supplement conversational interactions with craft workers. It also has a lot of potential to integrate into our workflow by allowing users to quickly iterate through different design options. Robotics and automation also hold promise, particularly when achieving level four or five autonomy, so we don't need to follow it around and control it with a controller.
Reality capture analysis programs, such as 360 photos and laser scanning offer on-the-fly productivity analysis when the tools are portable and user-friendly. These tools must be carried around in a pocket so that a team member can get it out and snap a picture, and that picture be analyzed for productivity on the fly. That will incentivize everyone to use it more frequently rather than asking someone to go walk every square foot of the job site once a week and capture thousands of photos so that we can analyze it right. It would be hard to implement the technology if it's adding a full-time role to the team. Most project teams don't have the kind of staffing plan allocated for that type of deployment.
Lucas addresses alternative delivery methods, materials science, and sustainability as their additional areas of interest, driven by the company's aggressive sustainability goals and the desire to mitigate environmental impact.
Implementing water and carbon reduction measures in the company's core workflow poses some challenges, Ryan explains. One obstacle is the need to assign someone the responsibility of monitoring and analyzing the associated information. Consequently, there is a growing interest in exploring passive monitoring tools and technologies to address this requirement.