October 4, 2023
Three Construction Technology Stories from Skanska, Hilti, and Impetus
Drones Redefining Skanska's Operations
Kara is a field engineer at Skanska USA in the Civil Division, and she also manages the drone operations for the Civil Northeast region. Skanska is a multinational construction and development company based in Sweden, and is the fifth-largest construction company in the world.
Kara shares her journey into the construction industry and her passion for flying drones. She started at Skanska as an intern in 2018. Initially, she explored working in design before deciding on a career in construction, attracted to its collaborative nature, teamwork, and innovative atmosphere.
Kara's interest in drones began in high school during her senior year when she creatively incorporated a drone to elevate the quality of an annual video project shared on the high school's social media platforms. This experience ignited her passion for flying drones and exploring new perspectives. When joining Skanska, she noticed that the Building Division and Civil Division on the West Coast had organized drone programs, but the Civil Division in the Northeast didn't. Recognizing an opportunity, she took the initiative to introduce drones to horizontal construction at Skanska.
Kara explains that Skanska, with over 135 years of history, has a rich legacy of building for a better society. There are three business units, including Buildings, Civil and Commercial Development, and Kara is part of the Civil team. She mentions Skanska's diverse portfolio, including high-profile projects like LaGuardia Airport, Penn Station, World Trade Center Oculus, and St. Nicholas Church.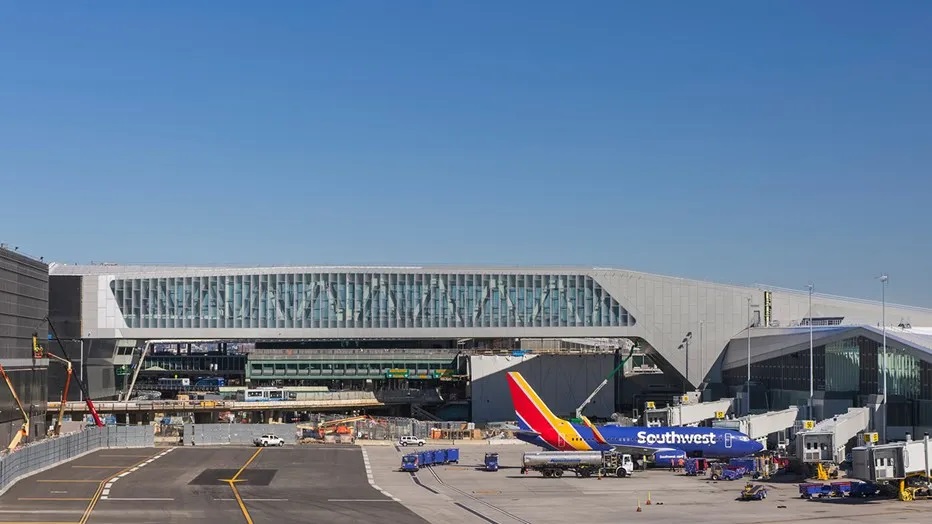 Transforming Construction Monitoring with Drones
Kara talks in depth about Skanska's drone program, which currently includes over 60 pilots and 44 drones registered with the FAA.
"The drone program at Civil in the Northeast started with one project, Portal North Bridge Project in New Jersey, a massive $1.5 billion endeavor spanning over two miles in length."
The challenging location of the project, surrounded by major airports and railroads, posed a significant hurdle. To obtain approval for flying drones on this project, the team developed a comprehensive 50-page safety plan, addressing potential emergencies and ensuring adherence to regulations. The program has been highly successful, and the team is thrilled with the results.
Each time Kara flies a drone, she generates multiple folders containing various deliverables. These include basic photo and video packages, marketing videos, slideshows, and time lapses. The ortho tiles consist of over a thousand pictures captured in a grid pattern by the drone autonomously. These tiles come together to form the Ortho map. Additionally, there are several other files such as TIFFfiles, meshes, contours, a quality report, raw photos for advanced editing, survey coordinates, and a web-based link for viewing the full Ortho and 3D model. This cloud based solution package enables the team to easily share information and collaborate.
Kara showcases their Ortho map, a comprehensive visualization tool made up of over a thousand smaller photos stitched together. It provides a large area coverage and high-resolution details, saving time and facilitating efficient project monitoring. For a project this size, if you are on the east side of the project and need to check something on the west, you have to drive through traffic and tolls or take a boat.
Having access to the ortho map saves a lot of time and energy. You can also go to the 3D model which allows users to take measurements, volumetric calculations, and easy sharing among the team. You can see everything in great detail.
It has been an enjoyable experience showcasing the project's progress through high-quality drone image overlays that track its development over time. These visuals provide a great way to monitor and celebrate the milestones achieved throughout the project, Kara explains.
Scaling through Knowledge Sharing
Kara talks about the importance of knowledge sharing at Skanska, and discusses their approach to collaboration within their organization, particularly in the context of utilizing technology. She emphasizes that simply using emerging technologies like drones within a small group isn't enough, as the goal is to scale it. Therefore it's important to find effective ways to educate all who are interested.
At Skanska there is a national drone network within the organization that is an effective platform for knowledge exchange. This network involves regular meetings, open forums, and a dedicated team channel where members can ask questions, seek advice, and share resources.
Kara emphasizes the importance of gathering resources in one central location, and making them available and easily accessible to all team members, so that they can build upon existing resources and avoid reinventing the wheel. The resources include safety plans, study resources for commercial drone operator licensing exams, best practices presentations, and formal training programs.
The drone program at Skanska includes an official onboarding training program, coupled with shadowing sessions. To become a drone pilot, the process involves passing the exam, attending the onboarding session, and participating in shadowing sessions with experienced pilots. This approach ensures that individuals gain the necessary skills and confidence to fly independently.
Hilti's Approach for Maximizing Jobsite Productivity
Oliver Glockner is the Innovation Director for Software and Services at Hilti, a global leader in construction tools and fastening technologies. With over 20 years at Hilti, Oliver has played various leadership roles, focusing on digital business development, strategy, global product management, and driving innovation. Oliver played a key role in the acquisition of Fieldwire, a strategic milestone for Hilti.
Hilti Corporation is a multinational company founded in tiny Liechtensteiner in the Alps in 1941, and is a world market leader in fastening and demolition technology for construction professionals. The company is renowned for its direct customer relationship approach, with approximately 280,000 customer contacts daily.
Over the years, Hilti has evolved its innovation and technology offerings, expanding from providing superior construction tools to considering applications such as measuring systems, services, and software. This expansion has made Hilti a project partner for the construction industry, providing end-to-end solutions. Oliver then explains how Hilti is not only offering services but also serves as a project partner for the industry.
Oliver discusses a specific project, an Innovation Center, that is a unique and sophisticated project.
The project involved complex MEP models, and we sought to optimize the process using various technologies such as BIM modeling, modularization, material tagging, tracking, and robotics to create value and enhance efficiency downstream, Oliver explains.
Case 1: Material Reduction and Standardization
The project involves MEP support and the focus was on applying value engineering to reduce material consumption and standardize materials. Through two comparison videos, one showcasing traditional hangers and supports (on the left) and the other demonstrating the innovative multi-trade supports (on the right), Oliver explains the benefits of the latter.
The multi-trade supports require less material, leading to a cleaner design with reduced space consumption, fewer fastening points, and less drilling, resulting in increased efficiency. The team found significant reductions in anchor points, items needed, and channel cutting, which decreased complexity by 90%. The project's 19,000 supports were streamlined to just 89 design solutions through upfront engineering and BIM modeling.
Case 2: Prefabrication = Speed and Consistent Quality
The next step in the construction process involves pre-fabricating the supports based on the model's specifications. Depending on the specific project situation, a variation of cutting, kitting, and preassembly is the best choice. Once completed, the prefabricated supports are transported to the job site. This approach ensures that the supports are built exactly as they were modeled.
Case 3: Transparency and Traceability in Supply Chain
Hilti introduced QR code tagging for tracking and progress monitoring on the job site. Each support was tagged with a unique QR code, enabling instant access to relevant plans and installation locations. You always know what the status of each supports are, eg. delivered to the job site. This transparent approach improved coordination and minimized errors during construction.
Case 4: Digital-to-field Enables Jobsite Automation
Finally, as Oliver explains, the information is brought out of the BIM model to the job site with robotics. "The Jaibot is the drilling robot, and it can automatically drill 2500 drill points in 3 days, which is equal to 600% productivity for clients, with higher health and safety." To boost Jaibot productivity, anchor dimensions and depths are standardized via value engineering.
The Tangible Impact of Hilti's Innovations
Oliver concludes that while the combination of the aforementioned four steps leads to a significant productivity gain for only the hangers and supports, if there is any way we can quantify the productivity gain. At Hilti they have done intense studies, comparing traditional solutions to multitrade supports.
The study showed that fully optimizing the process reduces material costs by 40% and labor work by 74%. One may argue that it's an artificial comparison because no one ever built both scenarios, however Oliver explains that they conducted a real-world project comparison, building Project A with old methods, and project B with new methods.
From this study we learned that investing in upfront design is necessary, as it leads to a clear return on investment (ROI) and cost savings of 34%. There is a lot of potential for significant saving by integrating various technologies in the constrction process, Oliver emphasizes.
Driving Innovation in Construction at Impetus
William started at Impetus as a commercial intern, engaged with the building construction team, his role evolved over the years, encompassing commercial operations, field operations, pre-construction, and even disaster recovery in South Louisiana. Today, he stands at the forefront of innovation, spearheading the efforts of the Innovation group and collaborating with emerging teams to champion self-performed services and prefabricated delivery. William spotlights the strides the organization has made with construction analytics.
Founded in 2013, Impetus champions the principles of innovation and technology adoption. The company has grown from a solitary employee to a dynamic team of 220 and revenues exceeding a billion dollars in a mere decade. Headquartered in New Orleans, their footprint extended to Nashville and an upcoming satellite office in Huntsville, Alabama.
A fresh graduate of LSU's construction program, William was attracted to the organization's startup mindset. Recognizing the potential of data analytics, he proposed investing in this field to enhance decision-making across the organization.
Starting with simple tools like Excel, myteam developed insightful look-ahead schedules to demonstrate how technology impacts the organization's future. This approach helped others understand the anticipated returns from technology investments, William explains.
Data Analytics and Operational Excellence
In a world filled with diverse construction technologies, William's team's focus was on identifying the most valuable options and integrating them with existing processes to showcase the power of data analytics. This led to the creation of automated dashboards that streamlined data entry, saving time and offering real-time insights into project health.
As the company expanded and diversified, the automated dashboard became an integral tool across various divisions, including infrastructure. Teams began to experience real-time insights into project performance, enhancing their decision-making capabilities.
Moreover, collaborations with the safety team led to innovative applications. By consolidating data from accounting and project management systems, the company managed to centralize information about compliance, safety observations, and insurance policies. This consolidated data facilitated the creation of a recurring document shared with field crews, ensuring compliance and safety awareness.
The implementation of data analytics streamlined this process, freeing up administrative resources for more creative projects. Although these projects may not have involved cutting-edge predictive modeling or complex machine learning, their rapid deployment validated the utility of data analytics in the organization's operations.
Enhancing Infrastructure Management in New Orleans Through Analytics
In a place like New Orleans, where the soil and water conditions constantly challenge infrastructure, efficient resource management is crucial. William explains that traditionally their crews have relied on heavy equipment to tackle these tasks, but with modern tracking systems, they have introduced a game-changing approach.
Through up-to-date tracking, They have developed reports that not only help locate and optimize the usage of their owned equipment, but also assess whether it is more cost-effective to buy or rent new machinery.
These insightful analytics, presented in user-friendly dashboards, have found their way across their teams, making decision-making more informed and real-time.
Before this innovation, generating such reports was a time-consuming process, taking several days to gather data from various sources. The data team has worked diligently to streamline this process, ensuring data input is consistent and accessible. This data is then transformed into visual reports shared with teams, empowering them to make better-informed decisions.
William thinks even though they are in the early stages of the journey, their last year's investment in analytics engineering has yielded remarkable success. The teams have embraced new tools, and as the company grows, they anticipate construction analytics to continue driving their competitive edge in the market. As they look ahead from their first decade into the next, they foresee analytics playing a pivotal role in their growth and success.
---
The article is the summary of a recent aec-tech talk hosted by aec+tech team, where Oliver Glockner, director of innovation at Hilti, Kara Fragola, field engineer at Skanska USA, and William Cotten, innovation leader at Impetus discussed their first-hand experiences in testing and implementing innovative solutions to enhance their work processes. You can see the full event recording here.